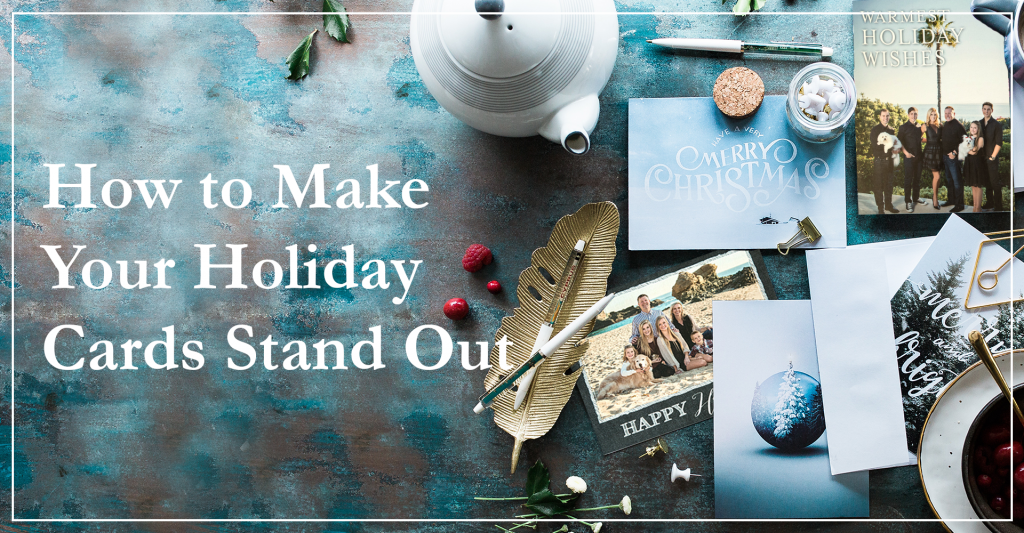 One of our favorite things about the holiday season is receiving the wonderful cards our friends, family, and colleagues send us. As a photographer, I also have fun (maybe a little too much) helping my clients select the right photos and greeting styles for their holiday cards. We have a ton of holiday card designs to choose from and we can even make completely custom-designed cards too, but here are a few tips to really make your cards memorable.
Spritz a little holiday scent
Wonderful memories come to mind when I smell the pine or fir scent of a Christmas tree, or the sugary smell of fresh baked cookies. Try spraying just a little of your favorite holiday scent on your envelopes to really give your recipients an extra boost of holiday spirit.
Jo Malone and Williams Sonoma have some wonderful scent sprays, or make your own using these essential oils tips.
Sprinkle with Some Whimsy
For some whimsical fun try sprinkling a few pinches of confetti or glitter into your envelope.
Envelope Makeover
Adding outlines to your envelopes, a family seal, or even a wax seal can add that extra luxurious look to your cards.
Hand addresses
For that completely custom and heartfelt look, consider hand-lettering your recipients' names and addresses. Don't have time or the skillset? Consider hiring a calligrapher or hand-lettering expert to help. This added touch really makes your cards pop.
Professional Portraits
Whether your family style is silly and casual or more refined and elegant nothing compares to the quality of professional family photographs for your cards. (Hint, hint, that's me)
Go Big(ger) or Small
To really make your holiday cards stand out this year choose a non-standard card size. Sure, you might have to pay a little extra for postage, but the look just might be worth it. We're happy to help you select larger or smaller cards or even custom sizes that fit your family's unique style.
Capture your family's unique personality
Speaking of that, be sure to select cards that show your true colors. If you want to stand out, consider alternative designs, unexpected colors, or adding a personal note, or even embellishments like embossing, gold or silver foil, or ribbon.

Whatever you send out this year, I hope you enjoy the season.
https://www.clickingwithkristin.com/wp-content/uploads/2017/11/holiday-card-diy3.png
1000
1920
BlogMGR
https://www.clickingwithkristin.com/wp-content/uploads/2018/03/logo_1437527010-1.jpg
BlogMGR
2017-11-30 19:23:41
2018-01-15 16:55:03
Give Your Holiday Cards a Little Extra Pop