Cute DIY Easter Photo Ideas
Easter has come so early this year and while we'd love for you to bring your little cuties in for a professional family photo session for Easter, we realize you might just want some fun photo ideas that you can do at home.
So, we've gathered some fun photo ideas that you can recreate yourself.
Let's start with the littlest ones. Babies are so fun to pose with colorful props, because let's face it, they make everything look adorable. And as long as they've had a nap, they don't usually protest. ;)
Little Bunnies
How about dressing up your little bunny and taking a photo of her sitting in the grass at your local park? This sweet,ruffly romper gives this little girl a beautiful Victorian touch for Easter.
Or if she's younger, how about curled up on a fuzzy blankie?
Pro Tip: To make photo shoots easier with any baby or young child, make sure they've had their nap and have some favorite toys and silly faces at the ready. For newborns, it's best to pose them while they're still sound asleep.
Easter Eggs and Baskets
Add some color and fun, by duplicating this adorable baby easter basket photo. All you need is a basket, plastic Easter eggs, and a bunny headband.
Pro Tip: To get baby in a good mood play with the eggs with her before you begin and have another adult handy who can entertain her with tickles or giggles while you take the pictures.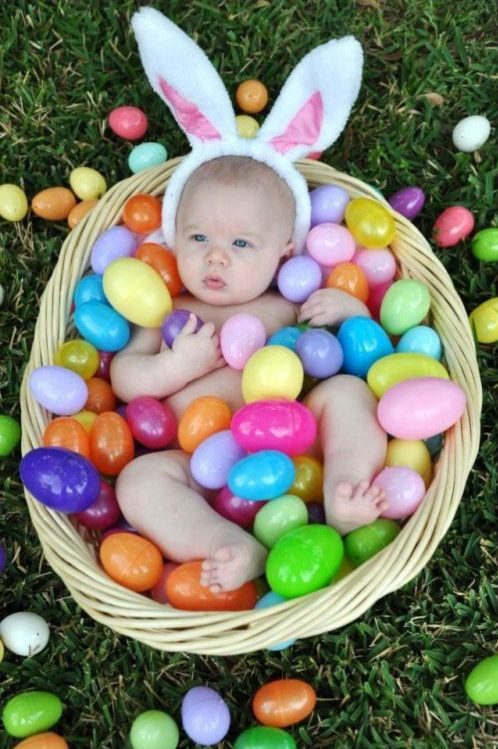 Have older kiddos? You can have even more fun with creative photo ideas! Check out some of these.
Ducklings
How about this Japanese cutie with her baby ducklings?
This picture doesn't require a lot of props either: simply an umbrella, rain-boots and some rubber duckies.
Pro Tip: Get your child involved in the fun by having them help you arrange the duckies. You could even encourage them to come up with a story about the duckies to get them even more engaged in the game and photos.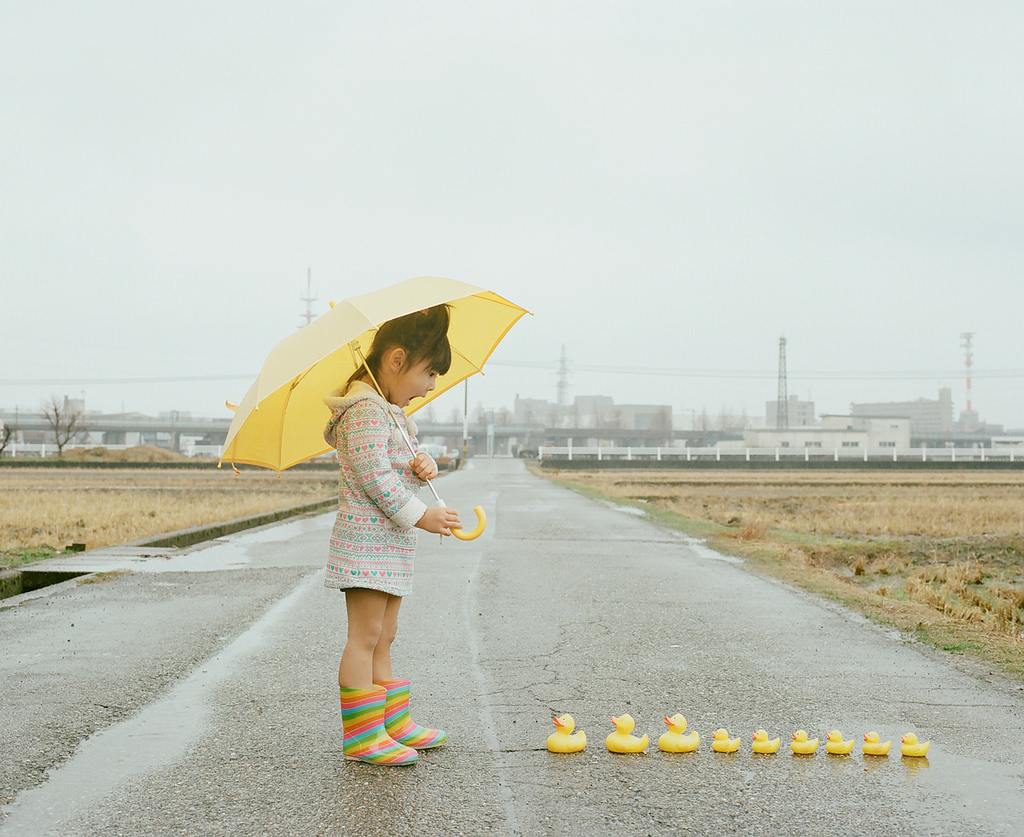 Egg Art
Another way to get the kids in on the fun is to have them make the first letter of their name in the grass with Easter eggs! Then experiment with fun and silly poses in the grass until you get the right shots. Make the whole exercise silly and you'll get some great candid pics like this one.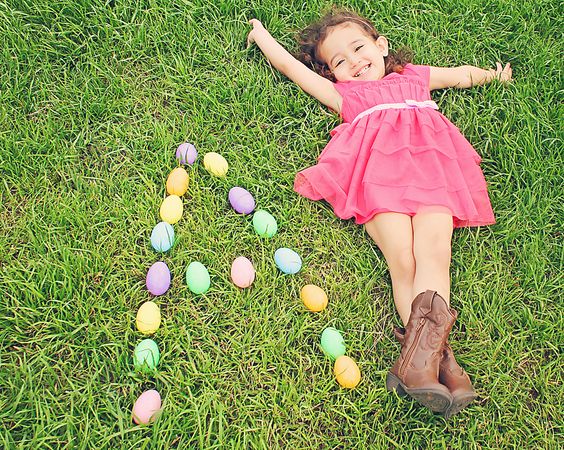 Tea Party
Host an Easter tea party with your kids and snap pictures while they play. Make some of their favorite treats and let them explore how they might have fun with their tea party.
Pro Tip: situate your play table under the open shade of a tree and experiment with different angles to get the lighting right.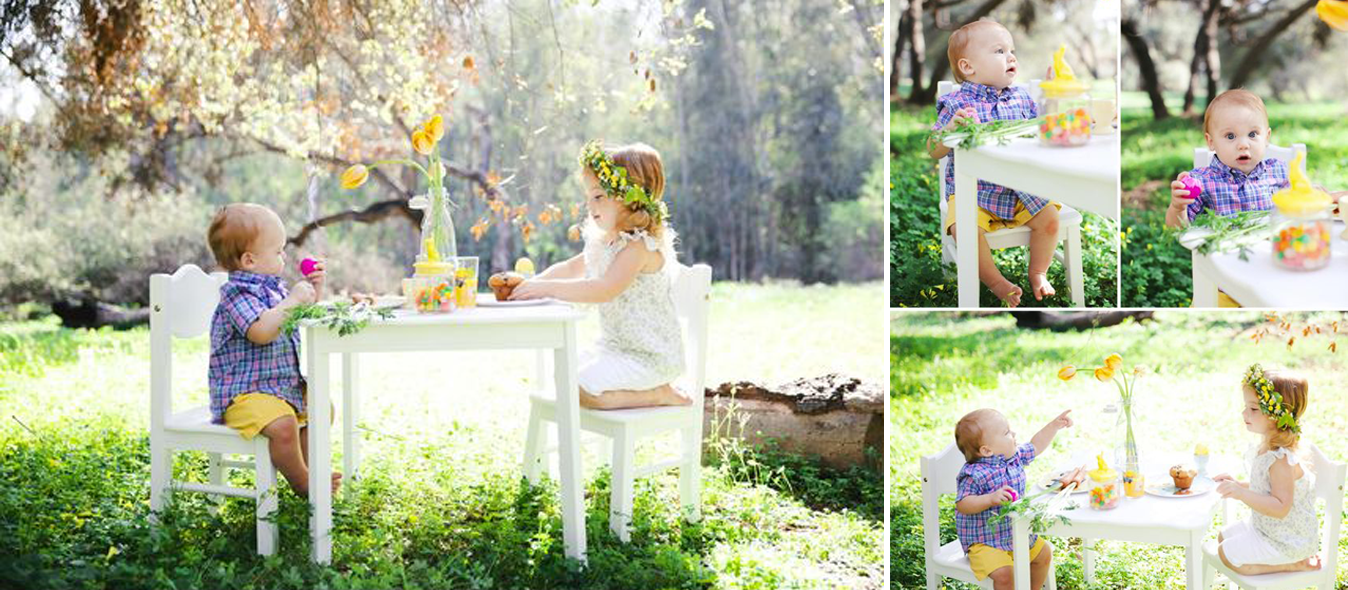 Picnic in the Park
If your kids aren't into tea parties, what about a picnic? This setting can easily be done with a cute old blanket and some yummy lunch. Pet bunny is optional, of course.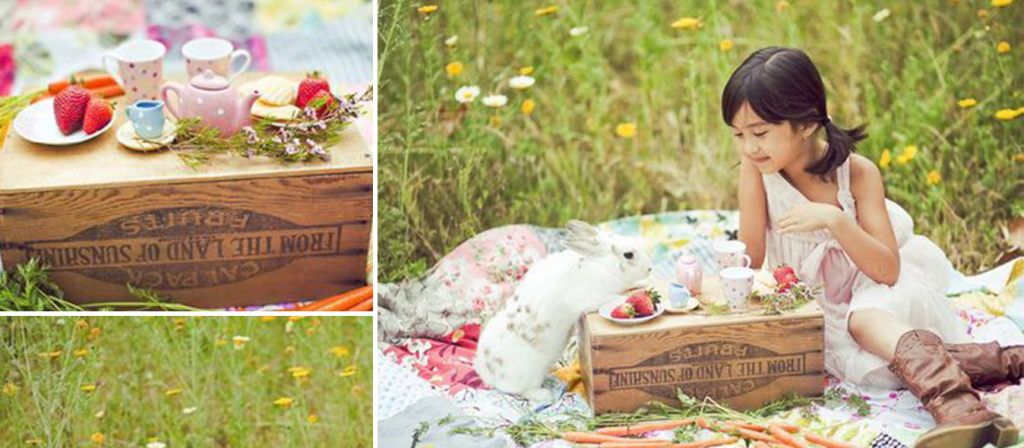 Springtime Blossoms
Take advantage of the beautiful trees blooming all around Orange County this time of year. While you're playing in the park with the kids, take a moment to snap some photos! They don't need to be as posed or color coordinated as this one, just have fun with it. Some of the best photos come from playing around.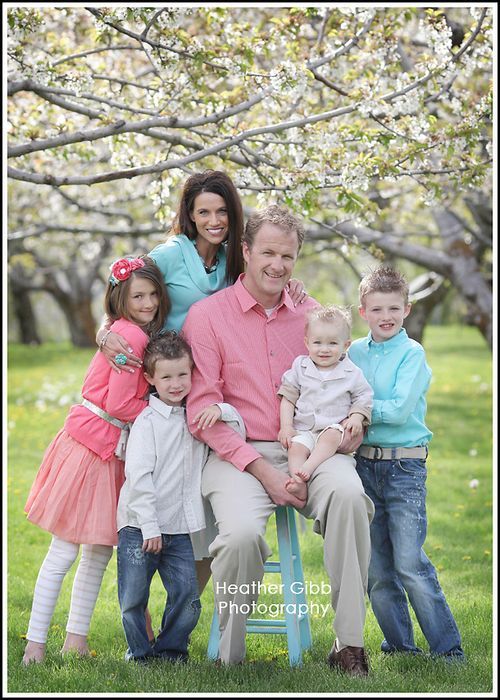 Candid Confetti Egg Game Photos
Speaking of playing around, is one of your family traditions playing the confetti egg game? If not, maybe you should adopt this fun (yet messy) Easter tradition!
It makes for some great, silly and very candid photos.
Pro Tip: If you're taking photos with your camera phone set your camera to "burst" to get multiple fast images with each click. This will help you to capture the action best. Click here to learn how to adjust your iPhone camera settings. And if you're on an Android device, click here.
Click on the photo to get instructions on how to create and play the confetti Easter egg game.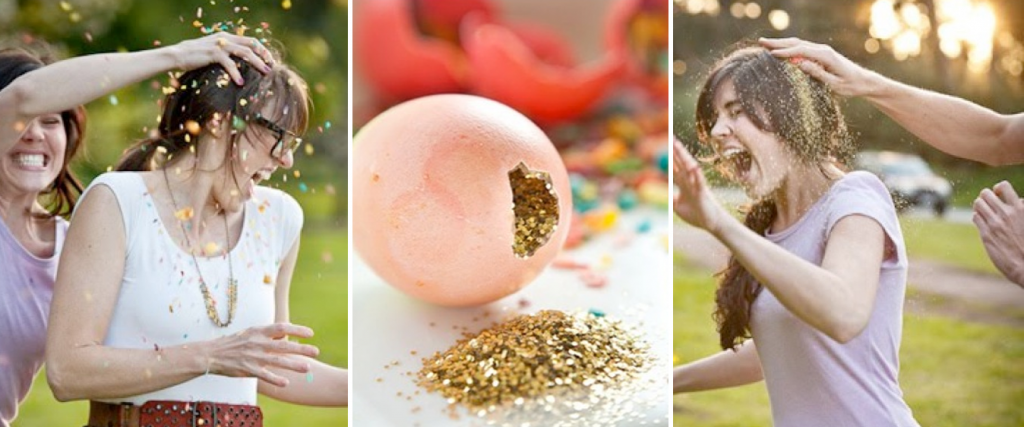 However you celebrate Easter or springtime, we hope you have fun and capture some great candid memories. And when you're ready for some professional family photos we'll be here too.
https://www.clickingwithkristin.com/wp-content/uploads/2018/03/baby-bunny2.jpg
388
570
BlogMGR
https://www.clickingwithkristin.com/wp-content/uploads/2018/03/logo_1437527010-1.jpg
BlogMGR
2018-03-21 14:53:26
2018-03-29 12:57:43
Cute DIY Easter Photo Ideas