Have you ever worried about having the right clothes, makeup, or hair for your photo session?
Or maybe you've worried about how you'd look with those few extra pounds you gained recently?
I can relate! But I want you to know a few behind-the-scenes things that just might change everything for you (really)
If you've had portraits done with us before you likely know just how far we go to make sure you are thrilled with the results. But if you haven't, or maybe if it's been a while, I want to share a little story with you.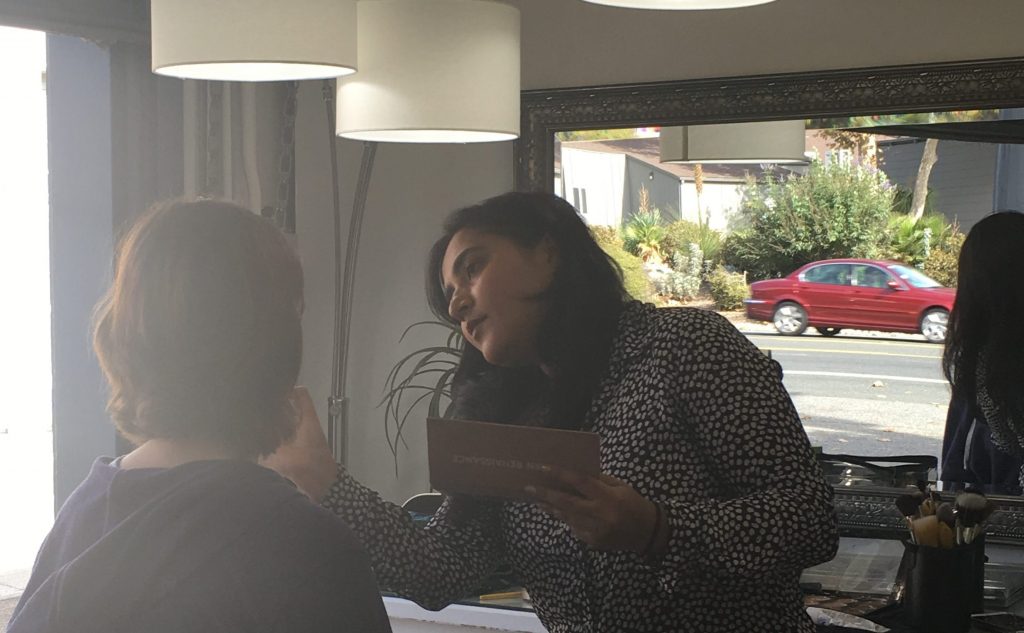 She'd never had a photo shoot like this before and wasn't sure what to expect. Just after she arrived at our studio, one of our makeup artists went to work, while her mother and I popped in from time to time to weigh in on lip color or hair style. We had fun talking and joking and by the time she was done we could see a visible difference in her demeanor and confidence. When it was time to start the shoot she posed like a pro.
This experience reminded me why I do what I do. I am so grateful to be able to help people look their best and feel their best in front of the camera. It also made me realize that maybe because I'm so in the moment I don't always tell people ahead of time just how much care we pour into our photography sessions.
Every time we do a session we employ not only high-end lighting, cameras and backgrounds/settings but we invest in professional styling (for what you wear), makeup artists and even hairstyling.
Why do we do this?
Because we don't want you to just be happy with your photos. We want you to be thrilled. Blue Sky's Studio is not your typical photography studio and we don't base our values on dollar signs. We base our success on how we affect the lives of our clients.
Before your shoot, if you want help with deciding on what to wear–even for your whole family, one of our stylists will work with you a few days before to help you select items not only from your own wardrobe, but from our freshly cleaned items from style library as well. Whether it's accessories or even a dress, chances are we have what it takes to make you look and feel your best on photo day.
When you arrive at our studio we have fresh, cold beverages ready. A makeup artist and hairstylist will be there ready to give you the look you want.
And once they're done, we'll head to your first shooting location.
During your session, I'll help you pose in ways that highlight your best features (and hide any you're not so fond of). My assistant will make sure the lighting is perfect and your hair and clothing is in place.
After your session, my team and I go to the next level and retouch, adjust lighting, remove blemishes, smooth clothing wrinkles, etc.–we can even shave off a few of those pesky extra pounds ;)–so when your picture review day comes, you will be blown away by how great you and your family look. I don't want to reveal too much, but we also have a few wonderful surprises when during your review session at our studio.
I hope this little behind-the-scenes look at what we do gives you the peace of mind and confidence to get those family photos done so that you capture all of the precious milestones of your life.
https://www.clickingwithkristin.com/wp-content/uploads/2017/11/senior-girls-photo-instagram.jpg
590
929
BlogMGR
https://www.clickingwithkristin.com/wp-content/uploads/2018/03/logo_1437527010-1.jpg
BlogMGR
2017-11-08 20:28:45
2018-01-22 15:42:51
Behind the Scenes: Why You Never Need to Worry About How You Look Again