Professional Senior Photography at Crescent Bay Beach

Professional Senior Photography at Crescent Bay Beach in Laguna Beach
Are you wondering which beach in Laguna Beach is the best for your senior pictures?
Crescent Bay Beach is located in North Laguna Beach.  With its stunning natural features and unique backdrop possibilities, it is one of the best beaches in Laguna for senior pictures.   Are a senior guy or girl wanting to have a photo shoot with a cool coastal vibe?  Or do you dream of a session at sunset with all the pastel colors and soft lighting.  Either way, Crescent Bay beach is the perfect choice for your senior pics.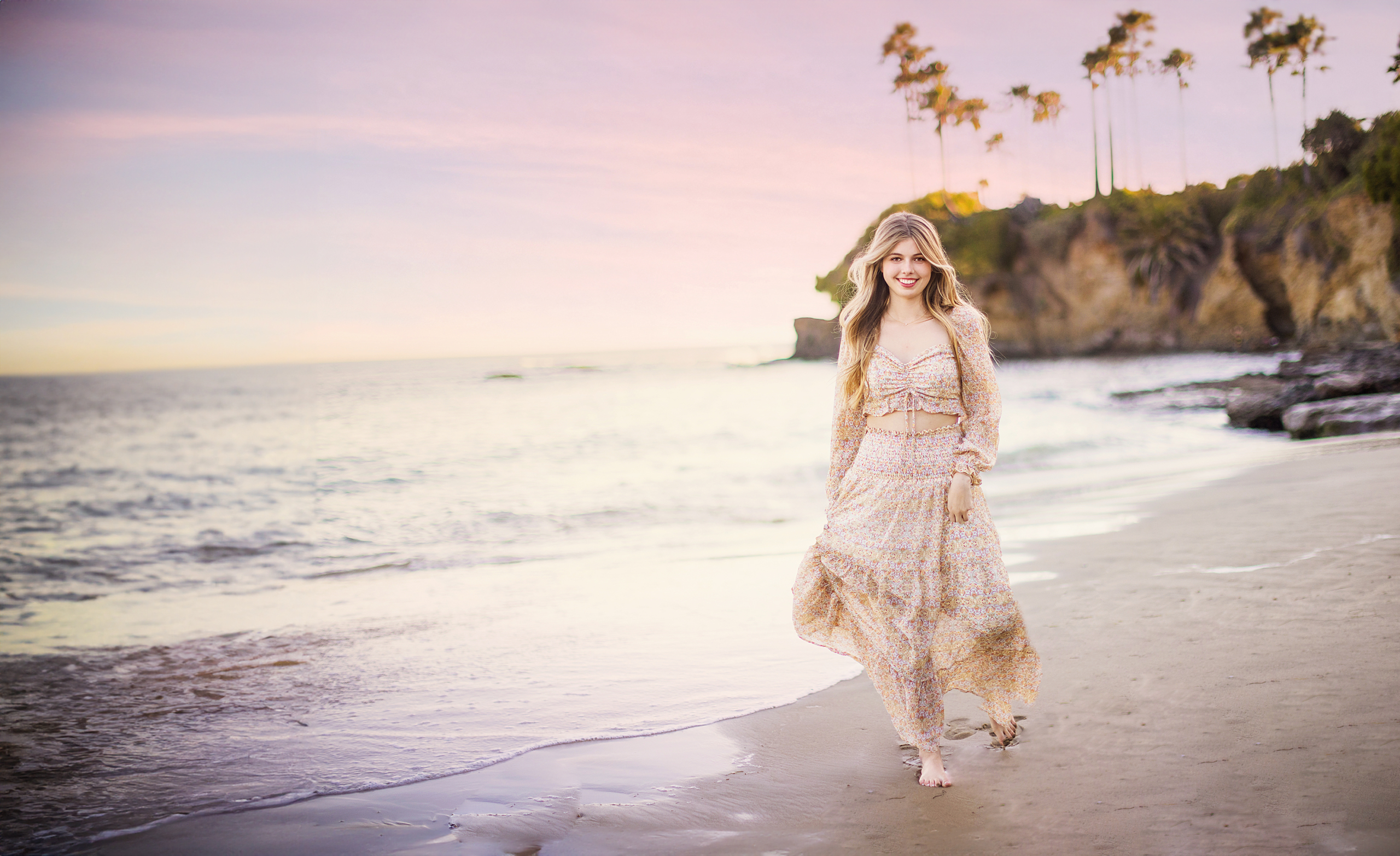 So what makes Crescent Bay beach special?
This beach is nestled along the California coastline with an entrance to the beach on both the north and south sides.  Since the beach is situated in a neighborhood, it can be difficult to find.  That is why we consider this spot a hidden gem.  Unfortunately the parking is very limited.  However, it is well worth the trouble of finding parking, because it is typically a tourist free location.
What to Wear to this senior photography session?
This location is the perfect spot for a flowy sundress, casual jeans and a sweater or your college gear.  Because of the variety in backgrounds, you can choose from a wide range of colors for your clothing.   Sunset colors, neutral tones, cool blue tones and cream and white look amazing on this beach.
Let's explore what makes Crescent Bay Beach a perfect choice for senior photography: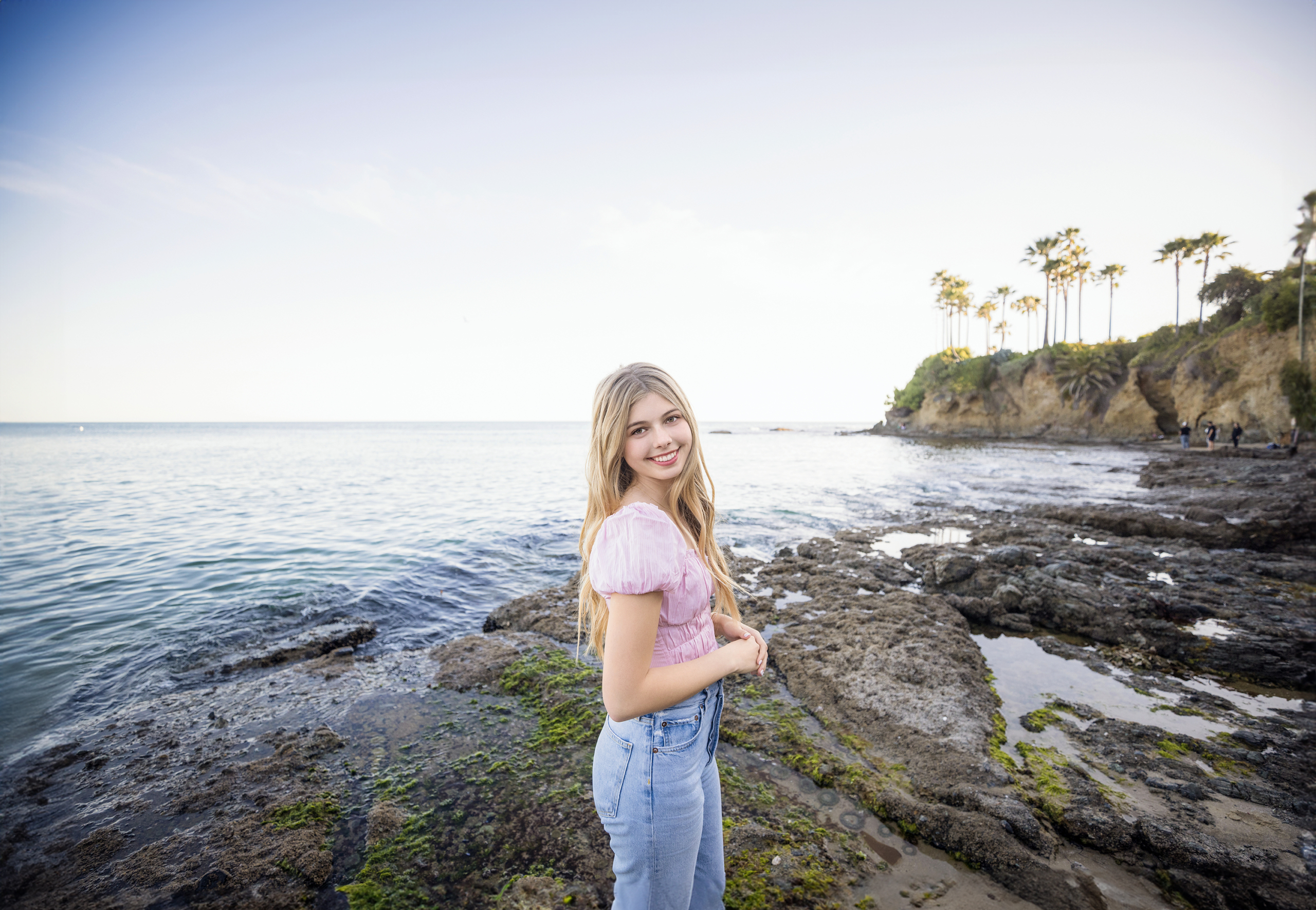 1. The Cliffs and Hillside
This beach is embraced by a breathtaking hillside that provides an exquisite backdrop for your senior portraits. The rolling terrain of this hillside harmonizes with the coastline, adding a touch of elegance to your photos.  There is nothing more beautiful than the view of the cliffs at sunset.  If you are looking for romantic, dreamy lighting, nothing is better than Crescent Bay beach.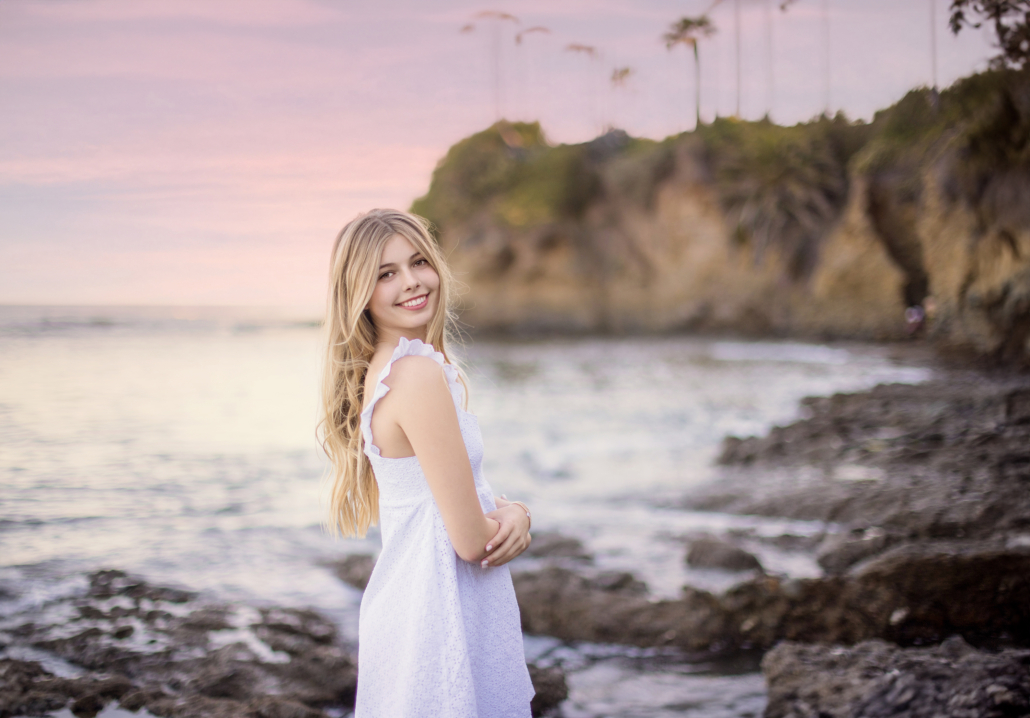 2. Rocky Wonders and Tide Pools
The diversity of natural elements at Crescent Bay sets it apart. The rocky areas, both at the north and south ends of the beach, offer captivating textures and patterns.  These textures against the ocean make for a dramatic and picturesque settings.
3. Kaleidoscope of Caves
The hillsides that line Crescent Bay beach are filled with unique caves and tunnels. These caves provide a delightful interplay of light and darkness.   Theses caves on the beach make Crescent Bay unique to other coastal locations.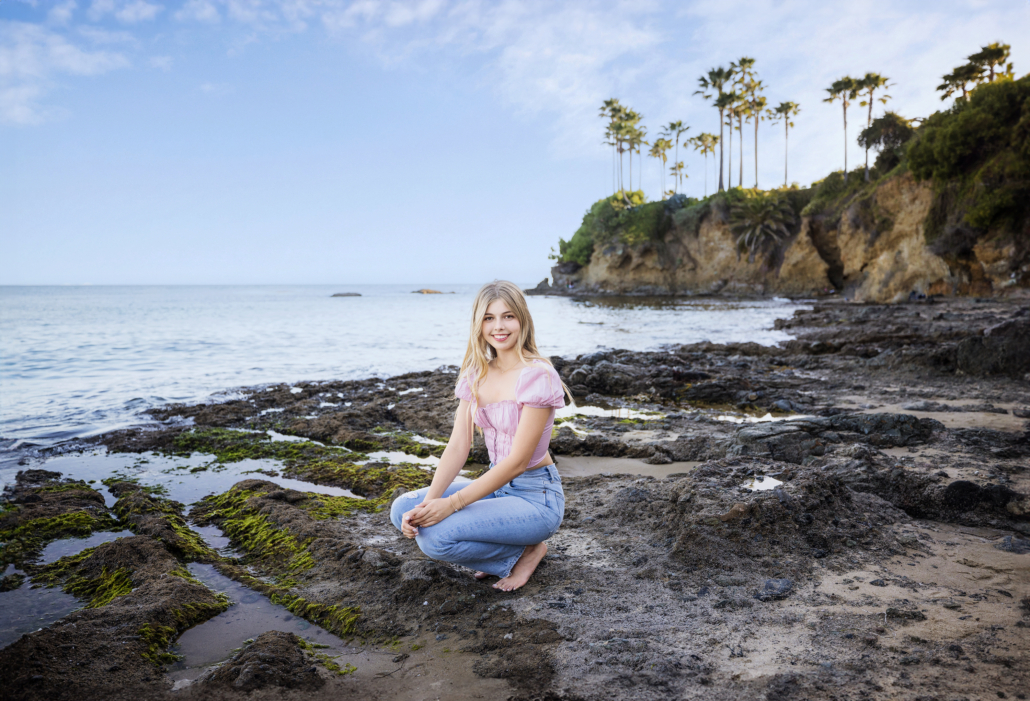 4. Palms and Panache for your professional senior photography at Crescent Beach
The iconic palm trees of Southern California have a special place in our hearts.  Crescent Bay's palm tree grove is the perfect setting for seniors who want that California vibe in their images.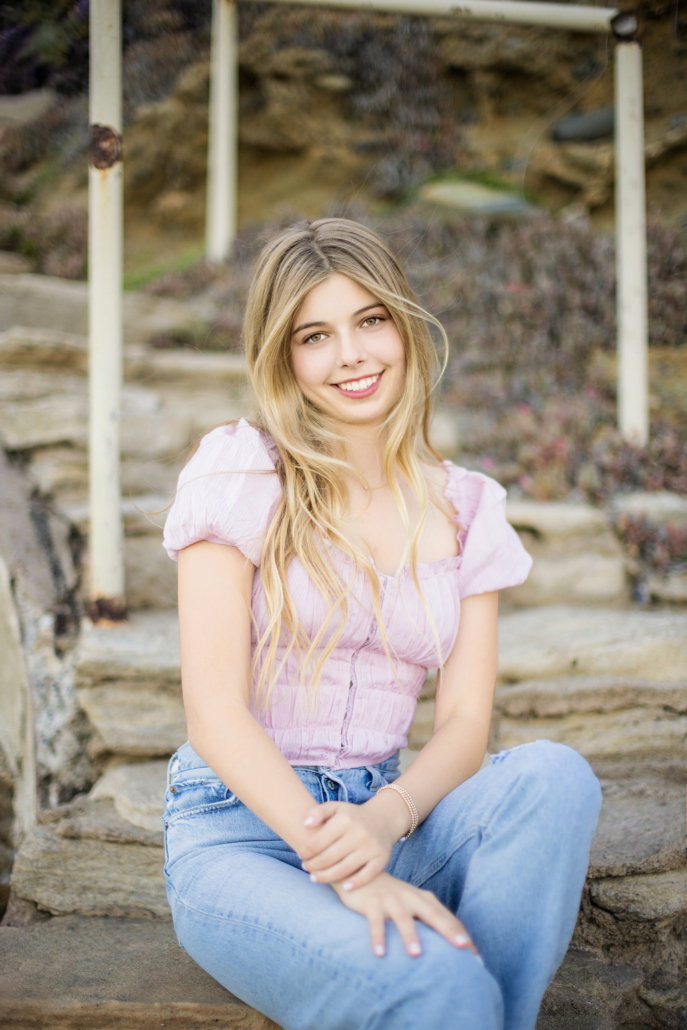 5. Seal Rock: The Unique Prop
Among Crescent Bay's unique features, Seal Rock stands out as an offshore wonder that doubles as a captivating background for your senior portraits. The rock's distinctive shape and its position in the water provide a rugged yet elegant setting for your photos.  A short hike up from the beach is a beautiful park and lookout.  This is the ideal location to end your senior session with a breathtaking view of the beach below.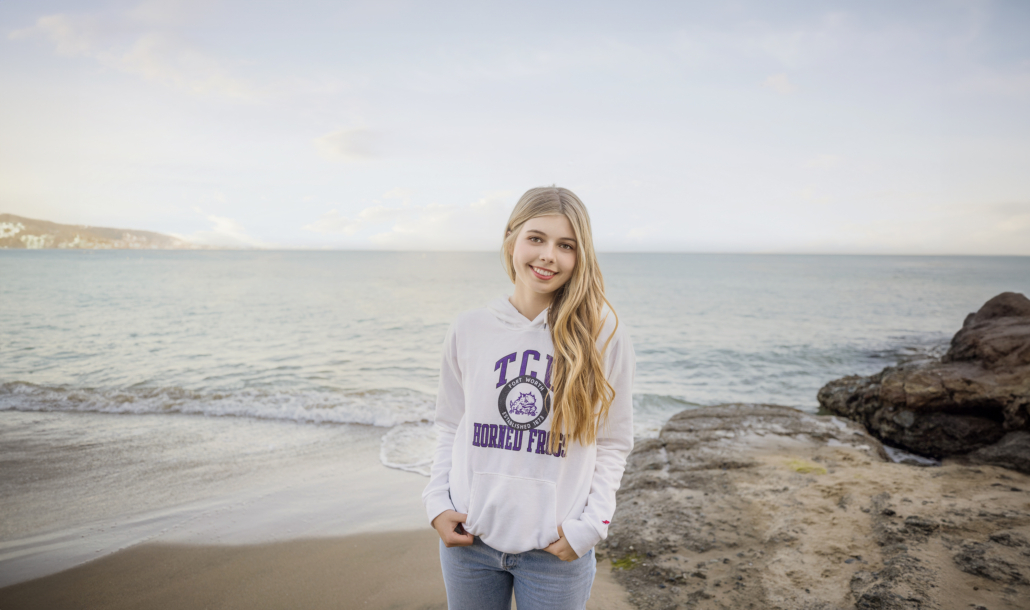 As a photography expert, I recommend Crescent Bay for your senior portraits. It blends nature's beauty with your high school experience, creating unique photos.
For other favorite beach locations, click on the links below:
Tablerock Beach: Click Here
Montage Beach:  Click here
Follow us on Instagram @blueskysstudio, on facebook at facebook.com/blueskysstudio, and follow along for more photography tips and tricks by signing up for our news letter below.
If you are ready to schedule your senior session, check out our senior webpage and fill out the contact information here!
https://www.clickingwithkristin.com/wp-content/uploads/2023/10/laguna-beach-senior-pics-6357-scaled.jpg
1743
2560
Mae Mangaoang
https://www.clickingwithkristin.com/wp-content/uploads/2018/03/logo_1437527010-1.jpg
Mae Mangaoang
2023-10-12 13:44:10
2023-10-12 13:44:10
Professional Senior Photography at Crescent Bay Beach